30% off any two or more products!
* Does not apply to add-ons. No coupon code needed.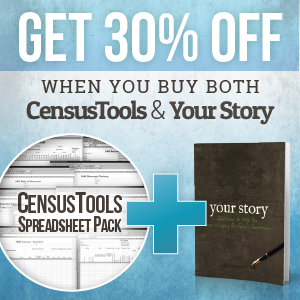 When you buy both CensusTools and Your Story or two of either product, you get 30% off of both items! (Add-ons such as the 1950 census are excluded from discounts.)
No coupon code is needed - the shopping cart will reflect the discount automatically. If you would prefer, you can buy two of either product instead - the discount applies no matter which product you choose as long as you purchase two or more.
This is a great opportunity to get a discounted copy of Your Story for each of your parents, or for yourself and a friend or spouse. If you are a professional genealogist, you can use the discount to get yourself a copy of CensusTools and a copy for a client, or buy two at a time for future clients. For more about our policy for professionals who wish to share the files, see our FAQ.
CensusTools Spreadsheets (includes 1950)
Census templates for Excel spreadsheets that are fillable census forms, allowing you to type your census data directly into a spreadsheet laid out in the same format as the census forms themselves.