When you buy both CensusTools and Your Story, you get 30% off of both products!
No coupon code is needed – the shopping cart will reflect the discount automatically. If you would prefer, you can two of either product instead – the discount applies no matter which product you choose as long as you purchase two or more.
This is a great opportunity to get a discounted copy of Your Story for each of your parents, or for yourself and a friend or spouse. If you are a professional genealogist, you can use the discount to get yourself a copy of CensusTools and a copy for a client, or buy two at a time for future clients. For more about our policy for professionals who wish to share the files, see our FAQ.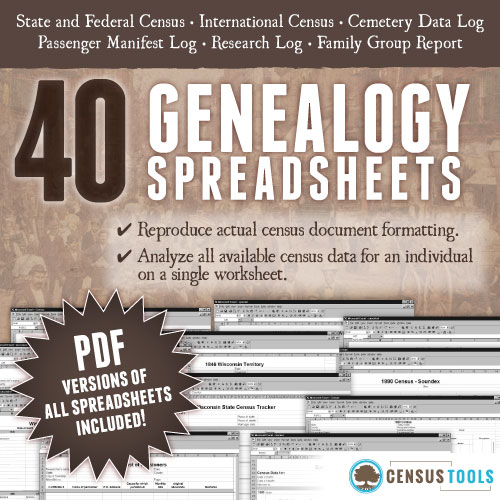 CensusTools Spreadsheet Collection
This 40 Spreadsheet Pack includes census spreadsheets and trackers for the US 1790-1940, Canada 1851-1921, England 1841-1901, Ireland 1821-1911, and Scotland 1841-1891. The pack includes state spreadsheets for Iowa 1836-1925, Kansas 1865-1925, Massachusetts 1855-1865, Minnesota 1849-1895, New Jersey 1855-1915, New York 1825-1925, Rhode Island 1865-1935, and Wisconsin 1836-1905. Each set collection features the main spreadsheet as well as a Tracker and Checklist. Also included are a cemetery log, a ship manifest log, and a family group report. Add "Your Story" to your cart along with CensusTools and automatically receive 30% off!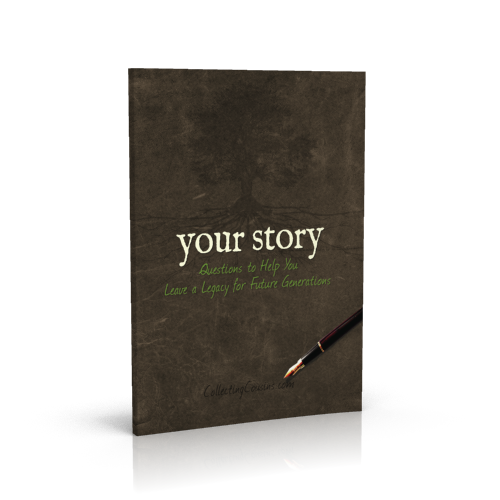 Your Story
Your Story: Questions to Help You Leave a Legacy for Future Generations
is a 54 page workbook with questions designed to prompt memories, record stories, and leave a legacy. The workbook is a great gift for parents and grandparents as well as a way to record your own personal story. The workbook is a digital file only and no physical book will be mailed. Please purchase a license for yourself and each person with whom you plan to share the master (blank) file.