Buy all 40 CensusTools spreadsheets for only $11.95!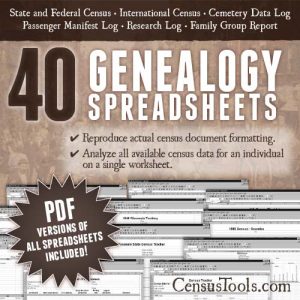 The CensusTools 40 Spreadsheet Pack includes census spreadsheets for:
US 1790-1940
Canada 1851-1901
England 1841-1901
Ireland 1821-1911
Scotland 1841-1891
The pack includes the following state census spreadsheets:
Iowa 1836-1925
Kansas 1865-1925
Massachusetts 1855-1865
Minnesota 1849-1895
New Jersey 1855-1915
New York 1825-1925
Rhode Island 1865-1935
Wisconsin 1836-1905
Each location collection features the main spreadsheet as well as a tracker and checklist. Also included are a research log, a cemetery log, a ship manifest log, and a family group report.
CensusTools on Genealogy Software Showcase
For more about how you can use CensusTools, check out the video below where Mary Ann visits with Ed Thompson of the Genealogy Software Showcase (and be sure to subscribe to the Showcase channel for more great genealogy software).
View Selected Screenshots