Buy all 40 CensusTools spreadsheets for only $11.95!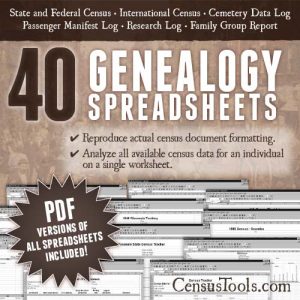 The CensusTools 40 Spreadsheet Pack includes census spreadsheets for:
US 1790-1940
Canada 1851-1901
England 1841-1901
Ireland 1821-1911
Scotland 1841-1891
The pack includes the following state census spreadsheets:
Iowa 1836-1925
Kansas 1865-1925
Massachusetts 1855-1865
Minnesota 1849-1895
New Jersey 1855-1915
New York 1825-1925
Rhode Island 1865-1935
Wisconsin 1836-1905
Each location collection features the main spreadsheet as well as a tracker and checklist. Also included are a research log, a cemetery log, a ship manifest log, and a family group report.
View Selected Screenshots