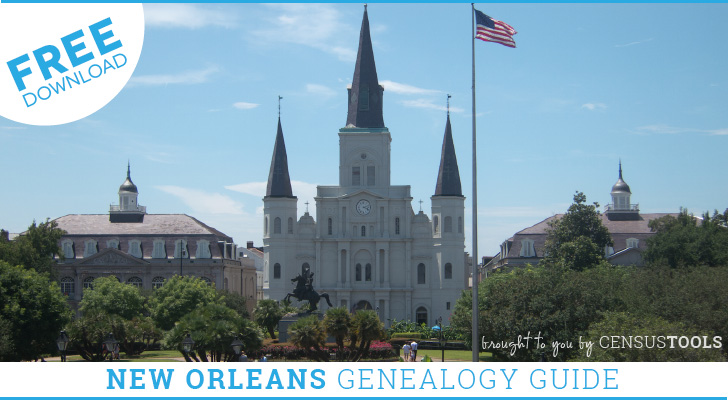 Download our FREE New Orleans locality guide for genealogists and discover the many resources available for this historic city. This 70+ page New Orleans genealogy guide will introduce you to what is available to help you learn about your New Orleans ancestors.
The rich history of the Louisiana port city dating to the 17th century has been preserved in detail with varied resources available in archives and libraries (some of it online). New Orleans has extensive archive holdings, including government, university, and church archives. Records are often in French and Spanish as well as English, so a working knowledge of those languages as they relate to genealogical records is helpful. Due to the vast number of resources available, the repository and online listings included are extensive but not comprehensive, and should give the researcher both an overview and a foundation from which to build.
The included "Brief History" will help the researcher understand the historical and current culture and geography of New Orleans and how they affect genealogical research. More specific detailed guides could be created for multiple sub-topics specific to the area, such as land and property, asylums and organizations, maritime interests, cemeteries, and more. This guide gives a brief overview of these topics, but there are enough rich and varied resources available in archives, libraries, and extant newspaper archives to fill books.
You can download New Orleans Genealogy: A locality guide to resources and repositories for New Orleans genealogy for free at the link below.
(Be sure to check with repositories before visiting as information may change.)