This post is part of the original CensusTools newsletter archive. It was written by CensusTools founder Gary Minder and updated to reflect changes in record availability.
1890 Census Record Loss
Most of us have experienced the frustration of researching our grandparents and great grandparents through the years, only to find a huge gap in available data due to the loss of the 1890 census. Four of my great grandparents immigrated to America in the 1880's and the 1890 census would have provided their first census records as Americans.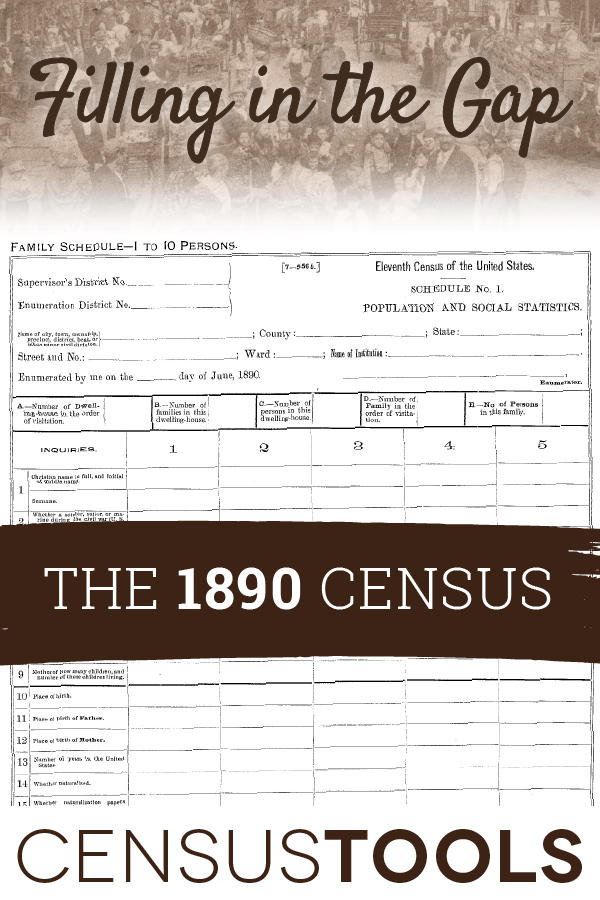 The impact of the 1921 fire which destroyed most of the 1890 census was not fully felt until 1962 when the census data would have become available. Had it survived, the 1890 census would have provided some interesting information, including answers to questions not previously asked in a census. For example, immigration was first addressed in the 1890 census, specifically whether naturalized and how many years residing in the United States. The same information is available in the 1900 census but of course memories were 10 years hazier and no doubt some of the people who immigrated prior to 1890 were dead by 1900.
1890 was also the first census which asked about Civil War service. Veterans and widows were asked to name a specific branch of service and whether Union or Confederate. That detail of information was not asked again in a federal census. Also of interest, although not very significant genealogically, was the question in 1890 which asked for a specific disease or illness for anyone not able to attend to normal business.
Existing 1890 Census Records
So how to fill in the 20 year gap in census data? First, not all of the 1890 census was destroyed in the 1921 fire. Records exist and are available for about 6,200 people. That represents about .01% of the entire census. The few existing fragments are from Alabama, the District of Columbia, Georgia, Illinois, Minnesota, New Jersey, New York, North Carolina, Ohio, South Dakota, and Texas. In most cases only small parts of a particular township in a particular county are all that survive. Odds are not good that your ancestor's records exist but you never know. Assuming that what remains of the 1890 census population schedules is of no use, there are other schedules and records from that time frame that can help fill in the gaps.
1890 Veterans Schedule
During the 1890 census, Civil War veterans were identified and additional information collected for inclusion on a Schedule of Surviving Veterans and Widows. A worksheet is included in CensusTools' Special Schedules spreadsheet. Very detailed information is found in that schedule, including rank, specific company, and enlistment/discharge dates, easing the process of locating pension and military records. The schedules exist for the states (alphabetically) Kentucky through Wyoming.
1885 & 1895 State Censuses
There is a tremendous amount of data available from various state census records. Where the federal census was conducted every ten years at the start of decade, most state censuses were conducted at the mid-point in a decade. For the purpose of substituting for the lost 1890 federal census, the state censuses conducted in 1885 and 1895 are key.
The following states held a census in 1885: Colorado, Florida, Iowa, Kansas, Michigan (1884), Minnesota, Nebraska, New Jersey, New Mexico, Rhode Island, South Dakota, and Wisconsin. Michigan also conducted an 1888 Civil War Veteran's census.
The following states held a census in 1895: Florida, Iowa, Kansas, Michigan (1894), Minnesota, New Jersey, New York (1892), and Wisconsin. You local LDS Family History Center is a great place to find films of those census records.
Ancestry 1890 Census Substitute
There are various online sources for the above genealogical data but Ancestry.com has probably the best collection of databases focusing specifically on filling the 1890 federal census gap. Ancestry's 1890 Census Substitute is a searchable database of the 1890 federal census fragments, as well as a wide variety of city and county directories, voter registration lists, state censuses, and the 1890 Veteran's Schedules.
Our research log, included in the CensusTools spreadsheet collection, is an excellent way to keep track of which records you have checked and where you may not have looked.